the all-in-one solution for your rentals: powerful website, booking engine & channel management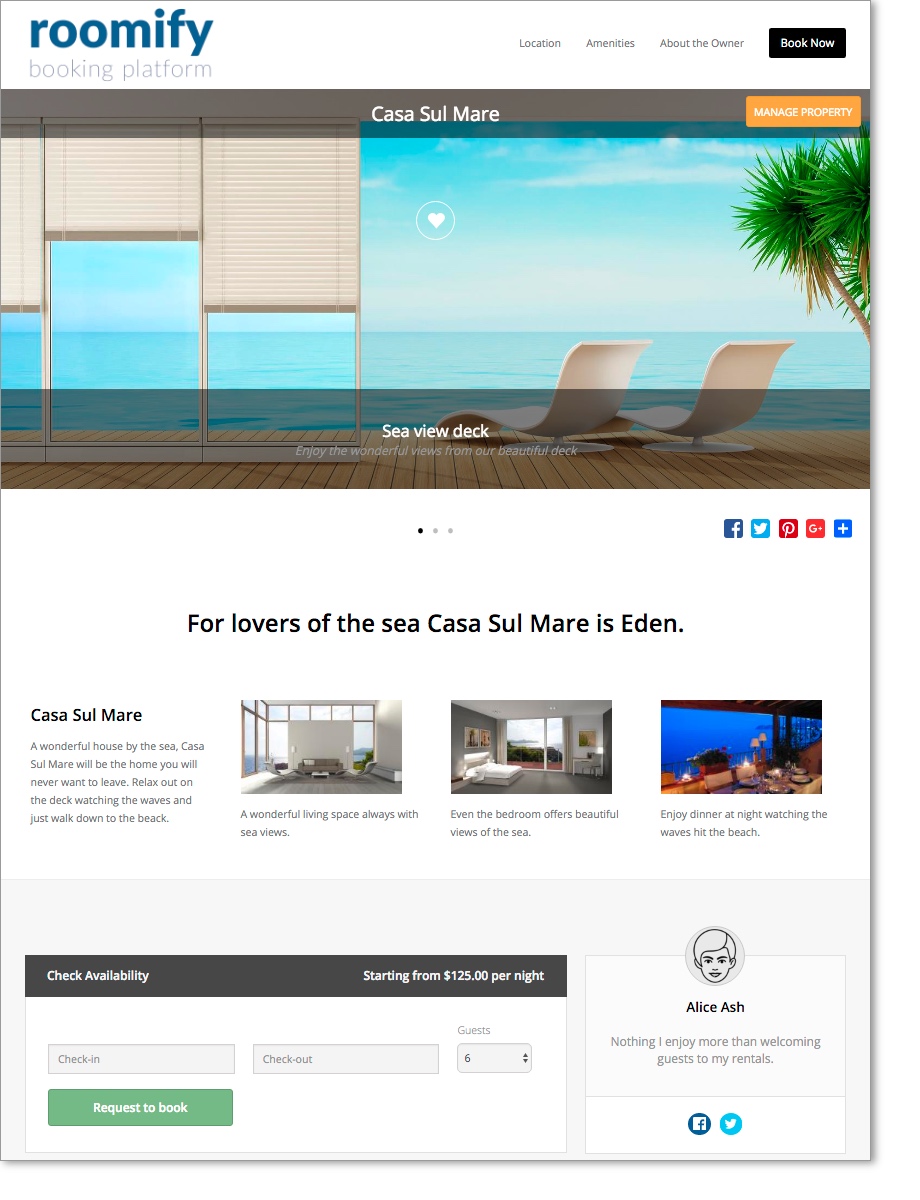 Roomify for Accommodations provides an all-in-one tool that combines powerful availability and pricing management with beautiful websites and flexible channel management.
Present your rentals in the best way possible, get direct bookings, sync with everyone else and sit back and relax.
want to self-host? visit our store for downloadable version
14 days free trial!
easy to understand booking pages
Your booking pages provide guests with easy to understand information and the ability to add services to their booking.
on-site conversations with custom booking offers
Our unique Conversations feature gives you the best of both worlds. You choose whether to activate instant bookings and/or enquiries per property.

Conversations allow you to exchange messages with guests on your site and define customized booking offers right there for the guest to act on immediately.
see everything on your calendars and sync with other sites
Your calendars will show you the state of affairs in a glance and the Roomify channel manager makes sure all bookings are kept in sync - so that you can take a break.
the roomify difference for travel
here is why Roomify is a great choice for a travel site
The Roomify Booking Engine is at the heart of all Roomify  Travel sites.
It allows you to easily manage availability and pricing and supports powerful search, flexible booking flows and a wide range of booking rules. 
Every Roomify site is also a fully featured eCommerce site.
We know the needs of travel sites and whether you require secure credit card storage, dealing with multiple suppliers or access to a number of different gateways we can adapt the solution to your needs.
It is all about the story you tell your guests.
From blog functionality to sophisticated destination information you have multiple ways of telling your story. Our advanced CMS tools also allow you to tell the right story across all devices.

A site tailored to your business - not the other way round.
Too often we are forced to tailor our business processes to what our tools allow us to do. Roomify breaks that mold and allows you to tailor the tool to your need. The open-source codebase and the Roomify team are here to build what you need.
Roomify sites are built using open source tools.
Why should you care? Because this means your site benefits from the work of thousands of people, not just the (admittedly amazing!) Roomify team. It also means that your site is truly yours. You have access to the code and data at any time and are not locked in to a single vendor.
Roomify builds on top of Drupal.
We are, individually and as an organization, active members of the Drupal community. This means a Roomify site uses the same engine that powers some of the busiest and most well known sites in the world such as whitehouse.gov. weather.com and many others.